The Police has more powers than ever to remove cars from the UK roads. This is known as impounding, and in practical terms means that your car is put on the back of a tow truck. Well, taken away and locked up in a secure facility until you pay to get it back. There is a whole host of reasons why your car impounded, and the process for getting it back might vary according to where you are too.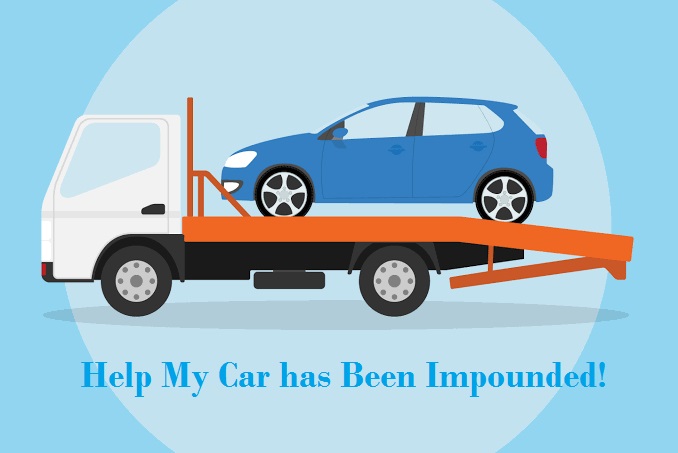 Untaxed Cars
A large number of cars which are impounded are taken off the road because they don't have any road tax. The switch to digital taxation has made it easier than ever for police forces to spot cars which aren't taxed. In the past, someone would have to physically check whether the car was displaying a valid tax disc. Now, many cars are equipped with automatic number plate recognition (ANPR) software, which reads all the registration details of every vehicle which passes. If the police car drives past an untaxed car, the police will be notified. The fact that we now all pay for our tax online means that the old defence of the tax disc being in the post or just being on the way to the post office to pay the money doesn't wash any more.
If are stopped driving an untaxed car, or even if a police car with ANPR drives past your untaxed car when it's parked on the road, they are within their rights to take it away. You will be handed a fixed penalty notice fine of around £100, and given points on your licence in addition to the car being taken away. If you return to where your car was parked and it's no longer there, call the police non-emergency number on 101 and ask for their help. They will be aware of all cars which have been impounded. And, it will be able to tell you what you need to do next.
SORN Cars
The one exception to untaxed cars is vehicles with a SORN notice. This is a statutory off road notification. If, for example, you've bought a car which needs a lot of work and you're doing it up you don't have to pay road tax on it when it's off the road. In order for a car to qualify as SORN, it needs to be parked on a drive or in the garage, not on the public road. Once it's repaired and ready to drive again, you should tax it first.
Lack of MOT
Cars might also be impounded if it doesn't have a valid MOT certificate. This could be because the previous MOT has run out and you haven't organised a new test certificate in time. Alternatively, you might have taken the car for its MOT test and driven it away afterwards, knowing it has failed for a dangerous reason. Whatever the reason, the police take driving a car without a MOT very seriously. You will be fined, and your car taken away. The only exception to this is in cases where you have no option but to drive your car to its MOT test. If you're unlucky enough to be stopped on the way to the garage, you will be allowed to continue on your way. Yes, without a fine if you can prove a pre-booked appointment.
Getting The Car Back
The first problem is often finding out exactly where your car has been taken. The police non-emergency line can help you, as long as you can give them your registration number. And tell them where you left your car parked. If you are stopped and your car is taken when you are present. It is necessary to remember for getting the details from the officer. The pounds used by the police might not be the same pounds. Yes, used by local councils for storing cars which have been towed for causing an obstruction. Pounds are generally open from early morning into the evening, not around the clock. There may be shorter opening hours at the weekend and on Bank Holidays. Search online for the details, and call the pound to confirm the car is there before making a journey. The pound may be some considerable distance from where you live. And, you will have to organise a way of getting there.
When you arrive to collect your car, you will need to be able to prove that you have rectified the reason your car was taken in the first place. That means being able to show a current and valid insurance certificate, proof that you've made an appointment for a MOT test, or a receipt to show you have paid your car tax. You will also need to show ID to verify your identity, such as your driving licence or passport. Many pounds also ask for something to prove where you live, such as a bank statement or credit card bill.
Fees and Costs
Having your car impounded is an expensive business. Firstly, you'll have to pay the fine related with the lack of tax, MOT or insurance. You will also have to pay the cost of having your car taken away. It is usually in the range of £150 to £200. On top of that, the police will charge a storage fee for every day. And, your car remains in the pound, unclaimed. This can be between £20 and £40 per day. Storage charges usually kick in from the day after your car is taken into to the pound.
Sometimes, the costs of getting your car back can be more than the value of the car itself. In that case, you can usually choose to surrender the car to the police and not get it back at all. The police will then arrange to have the car disposed of. In addition to the costs for getting the car back, your insurance premiums will also be hiked up. Yes, when you have to declare that you have points on your license.
You may also like: Tumblr Spy App and its essential features to know in 2020