You can make your camping trip joyful and comfortable by having the right sort of camping gear. If you are just beginning your camping journey and have no idea about what camping gear you will be going to need then this article is completely dedicated to you. Below, we have a detailed and complete guide on which gears we need to carry on a camping trip.
The best way to check whether you have packed all required items or not is by making a checklist. If you are on a family camping trip then allow kids to make their list. Below, we have listed some important gears and optional gears to must-have on a camping trip. So, let's begin…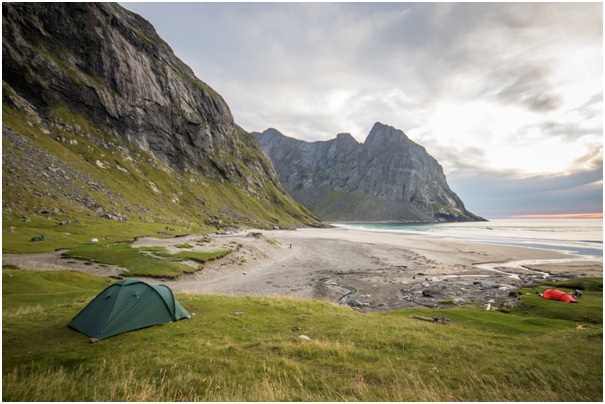 Important Gears to Carry on A Camping Trip
Sleeping Bags
A sleeping bag is an inevitable essential to have on a camping trip. A camping blanket or a sleeping bag will keep you warm in the outdoor weather conditions. If you have some bad back problems then you can also carry a sleeping pad. This will give your entire body the right comfort.
For casual camping, a sleeping pad, and sleeping bag is important to consider. In case, if you are an extreme camper then an enclosed or bivy-style bag can be considered. Some experienced campers even prefer bivy-style bags on tents in terms of keeping warm.
Flashlights
When it gets dark on the camping site and you need to get outside to pee or something else then a light source becomes very important. You can fill this gap with a flashlight. You just need a lightweight and small flashlight that you can carry anywhere. Make sure that your selected flashlight has an easy-to-activate switch and provides plenty of lumens.
Some people prefer headlamps but they have their limitations. It's got very difficult to hold a headlamp steady for a longer time. Flashlights give you the required flexibility and excel in portability.
Multitool
Smart and experienced campers always prefer to carry a multitool. The simplest multitool usually includes a knife blade, screwdrivers, scissors, and pilers. You must consider multitool as a one-time investment option. It will be going to help you a lot in various daily and camping activities.
A multitool allows you to easily carry lots of tools in a compact, convenient, and lightweight package. The more advanced multitools include everything. There are dozens of models available from various brands. Choose the right one that fits your requirements perfectly.
Water Bottle
It is very important to stay well-hydrated when on a camping trip. Dehydration can cause anxiety and a lack of focus. Therefore, equipment like water bottles stands as an important asset for camping trips. Before, 21st-century canteens were very popular and they are must recommend for camping trips. However, their narrow mouths limit flexibility. It becomes very difficult to cook soup in them.
In today's time, wide-mouthed plastic bottles called Nalgene bottles, are very popular. These water bottles are manufactured by various companies. You just have to select the right option according to your requirements.
Tent
A perfect tent is required to make a camping trip successful. You just need to figure out how many people will be going to join you and in which whether you will be camping. Tents come in various styles.
For family camping trips, cabin style tents or bell tents are the best options. Those who are on a backpacking trip will find the bivy tents the best option. Also if you're camping with family, you must need to choose the best family tent for bad weathercamping. If you need a tent that has strength and durability and can withstand several weather conditions then select a geodesic tent. Make sure that your tent comes with a rainfly and an easy setup mechanism.
Camping Stove
Open campfires are prohibited in some campgrounds. Therefore, camping stoves become very important to cook on a camping ground. There are numerous camping stove models available in the market. You just have to select the right that can be easily transported and easy to use.
Not just a camping stove, you will also need to carry fuel. A single camping stove is best for up to two campers. Those who are on a camping trip with a large group can carry multiple camping stoves. This will allow you to cook a larger quantity of food than a single stove.
First Aid Kit
It is very obvious to have a first-aid kit while on a camping ground. You have to ensure that your first aid kit is well-stocked. It is always advised to carry your first-aid kit in a bright-colored carrying case. This bag will be easily noticed in the case of an emergency. You can also carry your prescription medications along with the first aid kit. There are several other items that you have to ensure in your first aid kit. They are:
– Gauze
– Tweezers
– Aspirin
– Ibuprofen
– Topical pain-relieving lotion
– Bandages
– Tape
– Antacid
– Moleskin
– Antiseptic wipes
– Antidiarrheal medication
Map
A good map is an important asset to have on a camping trip. The well-detailed map of your camping site will help you a lot. When you are on a backpacking trip to a remote location then you will need a map. There are online maps also available in the market. But, they cannot replace the offline maps.
It is not surprising that online maps can give you more details than offline ones. But, they need a smartphone or a tablet. You will also need to have a good network signal to access the online maps. Network coverage issues are very common in remote locations. That's why offline are very important to carry.
Optional Gears
The above-listed gears are mandatory to have on a camping trip. You can also add more essentials as per your requirement. Below, we have a list of optional equipment you can carry:
– Camp chairs
– Camp table
– Hammock
– Duct-tape
– Extra-cord
– Axe to cut firewoods
– Small broom
– Matches
– Eating and cooking utensils
– Bottle opener
– Biodegradable soap
– Recycling bags
– Camping grill and fuel
– Binoculars
– Headphones
– Plastic bins
– Rainwear
– Gloves
– Toilet Paper
– Toothbrush and toothpaste
– Sunscreen
– Insect repellent
– Candles
– Mirror
– Eyeshades
Conclusion
Gears are very important to make your camping trip successful and comfortable. Above, we have briefly discussed the important gears to have on a camping trip. You can also carry other gears that are important for you. If you have any questions then you can comment below. Our team will give its best to resolve your queries. Keep reading for more regular updates. Happy camping.