WhatsApp is one of the top messaging platforms out there. The messaging platform has billions of users around the globe. As well as it comes with quite a lot of features.
However, WhatsApp as a platform lacks a lot of features, and even it has some restrictions when it comes to managing groups and so on. But the good part is that you can easily get rid of all of these restrictions by using WhatsApp Mods.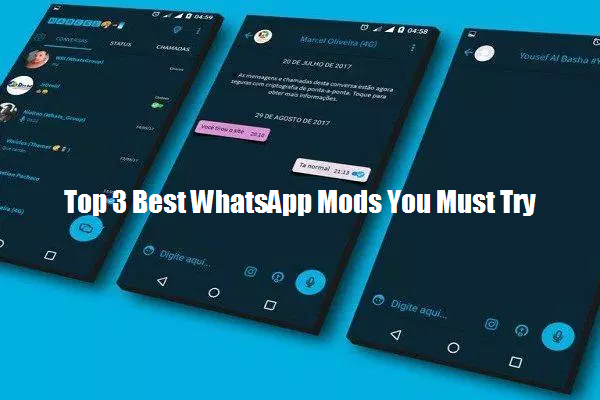 WhatsApp mods are the hacked, or you can say that modified version of the original app. And it comes with a bunch of features. As well as, there are a bunch of WhatsApp mods that are available out there. So let me just share some of the names with you over here:
Top 3 Best WhatsApp Mods
1. FMWhatsApp
FMWhatsApp is one of the most popular WhatsApp Mod available out there. Even it is one of the most used WhatsApp mod used by lots of people. The best part of the FMWhatsApp mod is that it allows you to run more than one WhatsApp account within the same app. As a result, you do not have to clone your WhatsApp to run multiple accounts.
Even it comes with a wide range of themes. So as a user, you will be able to choose the best theme according to your interests. Also, you get some other features, like you will be able to send files up to 1 GB, there are 30+ seen, and tick bubble designs are available of the app.
It comes with a video sharing limit up to 5 minutes and offers you the support for Facebook emojis. Also, the WhatsApp mod helps in protecting individual conversations and offers you better security.
2. YoWhatsApp
YoWhatsApp or YOWA is also one of the most popular WhatsApp mods available out there. This one too, comes with lots of features. And the best part of this app is that, it offers you a simple yet stunning experience. This WhatsApp mod is developed by Yousef Al Basha, and you get to see some extraordinary features.
With the help of this app, you will be able to manage multiple WhatsApp accounts from the single app only. It also comes with an inbuilt DND design. Plus, you can customize the design of the WhatsApp mod.
3. WhatsApp Plus
In the end, you can try out the WhatsApp Plus. WhatsApp Plus is among the top WhatsApp mods which are widely feature. And the best part of this WhatsApp mod is that it comes with a Non Ban Feature. So the official WhatsApp wont be able to ban your account.
Also, this offers you features like file sharing size limit up to 30MB, it does not compress your images while sending. You can schedule your WhatsApp messages through this app. It also offers you full control over the blue tick settings and has multiple premium WhatsApp themes.
So those were the Top 3 Best WhatsApp Mods. Now go ahead and check them out and see which one is working the best for you.
You may also like: Tumblr Spy App and its essential features to know in 2019